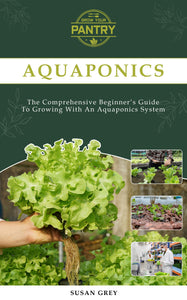 The Ultimate Aquaponics eBook - Master the Art of Growing with Aquaponics System
Introduction:
Discover the secrets of harnessing the power of aquaponics to create a thriving ecosystem where plants and fish coexist harmoniously. Our comprehensive Aquaponics eBook is a must-have resource for anyone interested in setting up their own aquaponics system. With step-by-step instructions, expert tips, and invaluable insights, you'll unlock the potential of this sustainable and efficient gardening method.
Benefits:
Aquaponics System Mastery: Learn how to design, build, and maintain your very own aquaponics system. From choosing the right components to optimizing water circulation, our eBook covers all aspects to ensure your system operates at its full potential.
DIY Aquaponics Made Easy: Save money and unleash your creativity with our DIY-focused approach. We provide detailed instructions on constructing your aquaponics system using easily accessible materials, empowering you to take control of your food production.
Thriving Growth: Experience accelerated plant growth and higher yields with aquaponics. By harnessing the natural synergy between fish and plants, you'll witness your crops flourish as they receive nutrient-rich water and the ideal environment for robust development.
Sustainable and Organic: Embrace an environmentally friendly gardening method. Aquaponics eliminates the need for synthetic fertilizers and reduces water usage compared to traditional soil-based cultivation, promoting sustainable and organic practices.
Educational and Engaging: Delve into the fascinating world of aquaponics and expand your knowledge. Our eBook educates and inspires, providing in-depth explanations of the science behind aquaponics while keeping the content accessible and engaging for beginners and enthusiasts alike.
Intended for:
This Aquaponics eBook is perfect for individuals with a passion for sustainable gardening and a desire to grow their own fresh produce. Whether you're a novice or an experienced gardener, our guide will equip you with the necessary knowledge to set up and maintain your aquaponics system successfully.
How to Use:
Start by familiarizing yourself with the principles and benefits of aquaponics outlined in the eBook.
Follow the step-by-step instructions to build your own aquaponics system, tailored to your available space and needs.
Learn how to select suitable fish and plants and establish the ideal balance for optimal growth.
Implement the maintenance and monitoring techniques recommended to ensure the long-term success of your system.
Expand your aquaponics knowledge through the educational content provided and join a community of like-minded individuals passionate about sustainable gardening.
Unlock the full potential of aquaponics with our comprehensive eBook and embark on an exciting journey of sustainable gardening. Order your copy today and start growing with aquaponics!
Please note that this is a digital product which will be delivered via email in PDF format.
v>